George Bernard Shaw says there is no truer love than our love for food, and by looking at the number of amazing dishes around the world, this saying may be true. But what are the most delicious dishes and what are the best ingredients?
After a tour of international kitchens, this is a list of the best foods and dishes around the world, get to know them and delight your eyes with these delicious pictures, and do not forget to tell us about your favorite dish after reviewing the topic.
                                                                              Dosa Masala, India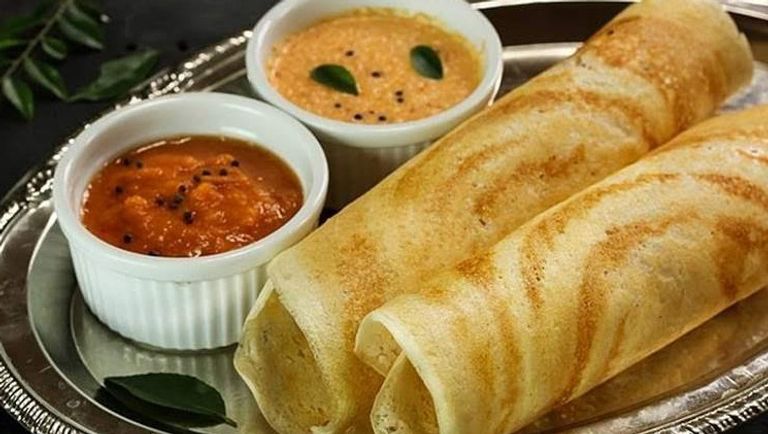 A type of crepe made from rice flour and stuffed with a spicy mashed potato mixture and then dipped in coconut sauce, and served with pickles, tomatoes and lentils, and it is one of the favorite foods at breakfast or lunch.
                                                  Paella from Spain

Paella is one of the famous Spanish dishes that are prepared with rice and seafood, and it is said that it is of Arab-Andalusian origin and means leftovers.
                                                          Buttered Popcorn, United States of America

Corn is the backbone of the industrialized world, and corn or butter popcorn, both salty and sweet, is a favorite among many.
                                                                   Som Tam, Thailand
To prepare Thailand's most famous salad, you'll need garlic and chili with tamarind juice, fish sauce, peanuts, dried shrimp, tomatoes, lemon juice, sugar cane paste, beans, and a handful of grated green papaya.
                                                 Chicken Rice, Singapore

Often called the "national dish" in Singapore, this steamed or boiled chicken is served with sliced ​​cucumber and soy sauce, and is among the best foods in Singapore.
                                                          Putin, Canada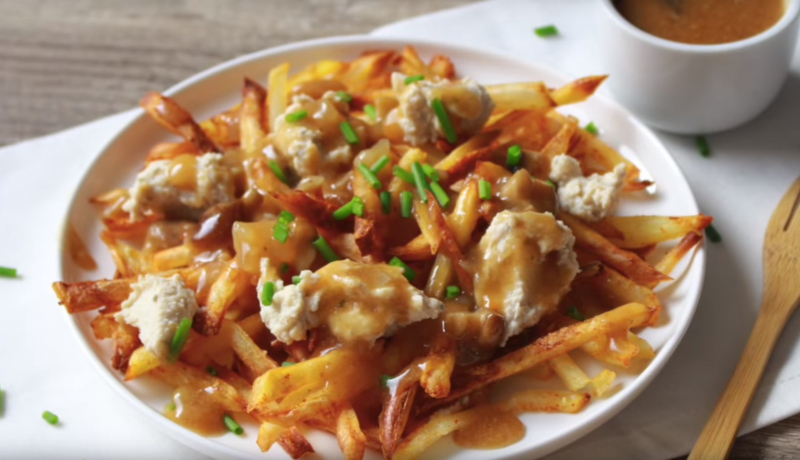 French fries with cheese and brown broth may sound like a regular dish, but its distinct flavor makes it one of Canada's most beloved dishes.
                                                                  Taco, Mexico

Freshly handmade tortillas stuffed with small bits of roast beef topped with greens with salsa, onions, cilantro or anything else you want, perfect for breakfast, lunch or dinner.
                        Buttered toast with Marmite from Britain

Buttery toast has a distinct flavor, and you can add a little jam to enjoy this sweet and savory mixture.
                                                    Marzipan, Germany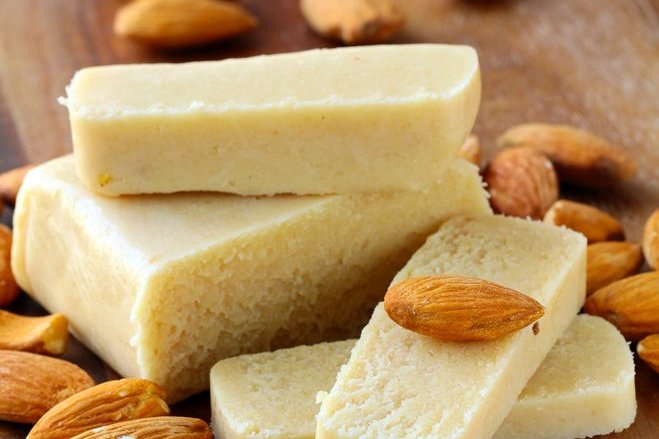 Do not be fooled by cheap imitation marzipan, in which soy paste or almond spirit is used, because real and original marzipan uses only ground almonds and sugar, which is very delicious and one of the most beloved desserts in the world.
                                                   French toast, Hong Kong

Two pieces of toast with peanut butter or jam dipped in eggs and fried in butter and served with butter is still one of the best foods in Hong Kong.
                                           Chicken parm, Australia

Australian chicken strips with Parmesan, melted mozzarella cheese, pepper, garlic and tomato sauce, a dish reminiscent of Italian dishes but the pride of Australians who claim it is the best dish in the world.
                                                             Texas Grill, USA

Chili, tomatoes, onions, peppers and various herbs, all with a personal twist for every chef, all this makes Texas barbecue something special.
                                                      Moroccan tagine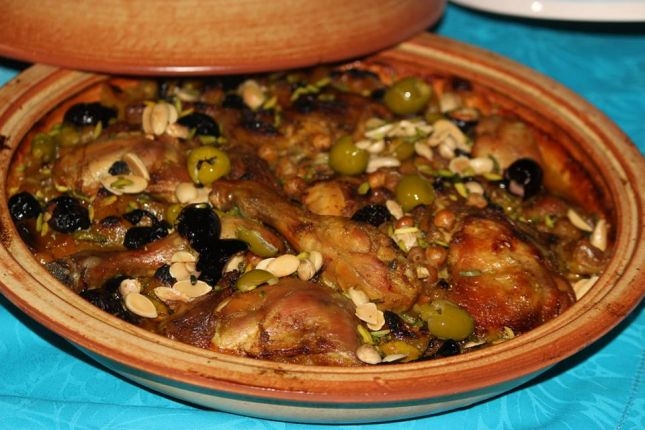 One of the popular foods known in Morocco is the Moroccan tagine, which is one of the most delicious and delicious food, which is constantly present on the Moroccan meal and abounds in fortunes, and the tagine is a pot made of pottery, and what distinguishes it is that it is able to preserve the nutritional values ​​of the items cooked in it, and also give food A distinctive flavor that does not appear in any type of dishes prepared with regular amounts, and the Moroccan tagine is easy to prepare and its ingredients are constantly available, especially since the tagine can be made in more than one way and in different ingredients
                                                    Spicy crab, Singapore

You cannot visit Singapore without tasting this dish, while there are dozens of ways to prepare crabs, whether with black pepper, egg yolks, cheese and more, the local spicy crab is still the best seller.
                                Couscous Amazighe marocaine 

Food in Amazigh culture is very important. The popular Amazigh food is couscous. Small pasta couscous. They get together and the women sing songs while they cook couscous. Traditionally, women put water in couscous and cooked couscous. Usually couscous is eaten with vegetables and meat, and couscous is eaten during lunch or dinner. Another traditional Berber food is tagine. The clay pot tagine, but it is the food we cook in the clay pot as well. Usually we put meat and vegetables or fruits in the tagine. The special cover keeps steam inside the tagine, so the tagine does not need much water. Traditionally tagine is placed over charcoal. Others are the foods in the Amazigh cuisine in Dazs (couscous with buttermilk), the toaster of Nalshe, Khakhz al-Fahmeh, and Tafarnout Khanz al-Kousha.
                                          Chicken covered with salt

This dish is one of the most delicious chicken dishes and the most famous among the Turkish dishes, it is a chicken stuffed with rice and covered with salt completely and placed in the oven until it is cooked and the salt becomes solid, then it is broken and removed and the chicken is served with rice and bread, it is considered one of the most delicious Turkish dishes, you can try it at Hatay Sofrasi In Istanbul
                                                         Paris Brest
If we search for the pioneers of French cuisine and its fans, we will find them many due to the diversity of its dishes and the simplicity of its contents in addition to its delicious taste that is praised by many.
                                                        Koshary dish
The Koshary dish is one of the most popular dishes in Egypt, and it is a mixture rich in carbohydrates, and contains pasta, rice and lentils, and topped with tomato sauce, fried onions, and anything else the chef prefers to add.
It is considered a vegetarian dish if it is prepared using vegetable oil.
                                         Al-Kabsa: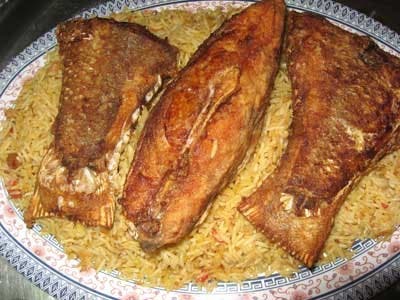 one of the most famous Saudi food, and it occupies a special place among the Saudi tables, as it became served in fast food restaurants and in several ways. In the past, Kabsa was cooked with lamb, and more recently as a kind of change it is cooked with chicken, fish or shrimp.
                                                   Jollof dish Africaine
It means one bowl in the "Wolof" language used by the people of Senegal and some regions of Mauritania, and it is also called: "Benachin". It is one of the famous dishes in West Africa, and mainly consists of: rice, tomatoes, tomato juice, onions, and red pepper, You can add some pieces of meat or vegetables, spices and salt. All of these ingredients make the meal distinctive with a delicious flavor and a strong aroma.